About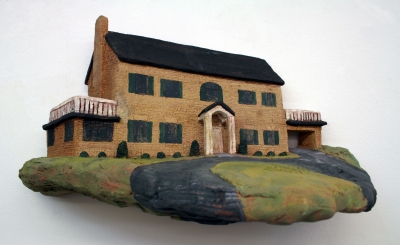 Korla is enthusiastic about houses and transforming spaces. Her focus is on residential property and helping others buy and sell homes. Her number one goal is looking out for her clients and their best interests. Organized, dedicated, and highly dependable, Korla makes her clients her top priority. She comes from a family of carpenters and crafts people and was raised to know quality when she sees it. Korla has the ability to see hidden potential in a property and share that with her clients. She is a member of the National, Minnesota, and St.Cloud Area Association of Realtors.
Korla has a background in fine art and art history. Before coming to the real estate business, she spent the previous 6 years sculpting architecture and landscapes out of clay. She sees her real estate work as research for her artistic process and spends her free time in her ceramic studio sculpting three dimensional wall hung landscapes.
Korla and her husband also like to utilize any spare time they have renovating their own home and gardens. She loves to transform spaces inside and out. Please feel free to contact her with any questions, as she is eager to be of service.
Qualifications
Member, National Association of Realtors

Member, Minnesota Association of Realtors

Member, St.Cloud Area Association of Realtors

Member, Northstar MLS-Multiple Listing Service

M.F.A. Fine Art, University of Minnesota

B.F.A. Fine Art & Art History, Kansas City Art Institute
"Korla provided us with over-the-top dedication to getting us the home we wanted. Her assistance with the search process was exceptional; she not only found us interesting homes in neighborhoods we knew about, but also found us new neighborhoods and homes to look at. We ended up in a great home in a neighborhood we didn't previously know about and are extremely happy with it. She went beyond the call of duty to make sure the closing went smoothly, and took an active role in the entire process. We couldn't have done it without her."
Ben J.
"Korla went above and beyond the expectations of a real estate agent. Her knowledge of the Twin Cities neighborhoods helped us to find the perfect house in a location that could not be beat." Korla's background in visual arts, and her expertise about each property was helpful during the process. I had a very particular aesthetic in mind for the kind of house I wanted. Korla was able to pin down my style requirements and match that with the more practical requirements of my husband. In the end, we found a house that did have everything we were hoping for. Korla is able to envision more out of a space than you may be able to imagine. She has a huge creative thinking capacity that makes the house searching process fun. We found Korla to be very responsive while we were going through the purchasing process. We went through the house buying process while living long distance and knowing Korla was there to take care of things really eased our minds.
Sarah B.